1991 Honda CRX Si
Before: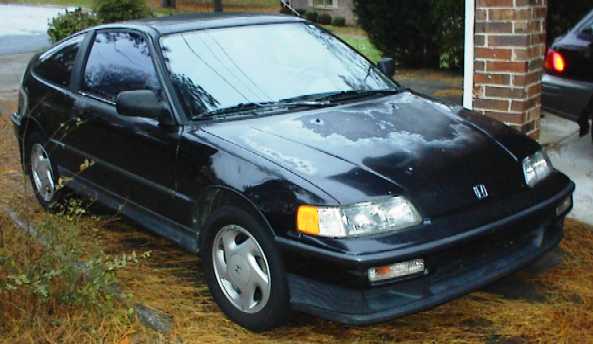 After: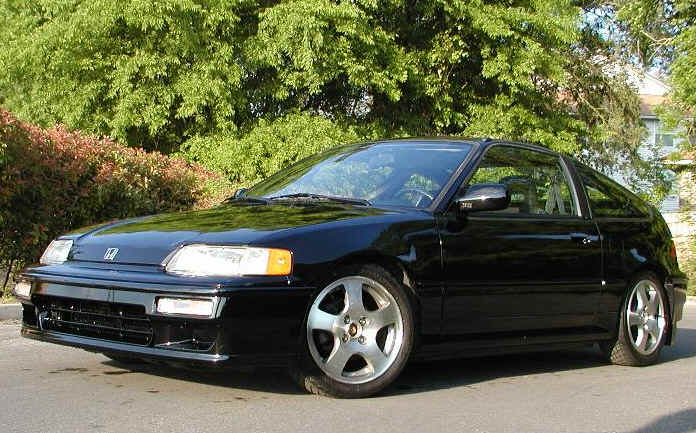 ---
UPDATE - 11/19/02
This is the 1991 CRX Si that is now my daily driver. Though it was not the intent when I bought it, the selling price of $1000 and the ease and economy with which I rebuilt the engine have made it a natural for the GRM $2003 Challenge.
With its faded paint it isn't much to look at yet, but that is only a trip to the body shop away from being fixed. As I said, the first phase of the build involved the motor. When I bought the car, it ran, but I was told it needed a new engine. That didn't stop me from driving it the 30 miles home, and subsequently putting another few hundred miles on it while I collected parts. I suspected bent valves, and when I pulled the valve cover I was able to verify that. Unfortunately, this also revealed that the head was dead. It looked as if the top end had suffered oil starvation at some point, as the cam bearings were very galled, as were the lobes and rockers.

Click on the thumbnails for a larger view
So, I was no longer just replacing valves, I was now shopping for a head. I found a D16Y8 Head and Intake Manifold on ebay that I got into my hands for $192.50 shipped. I had been hunting for a Y8 Manifold for my Civic anyway, so two birds with one stone.
I had planned to just pull the old head, and put the new one on. When I pulled the old one though, I found what looked to be a bit too much play in one of the pistons. So into the bottom end I went. After pulling the piston and taking the appropriate measurements, it turns out that my mind was playing tricks on me. The piston was fine. But since I had it out I figured I'd do the rings, and since rings come in a 4 pack, I did all 4. So I honed the cylinders to break the glaze, dropped the pistons and rings in there, and essentially did the better part of an engine rebuild without pulling the motor. If I'd known I was going to do that much, I'd have pulled the motor, but you know what they say about hindsight...
Sidebar: I HATE DIRTY ENGINES! It is a major pet peeve of mine. So, while I had this engine mostly apart and had good access to the engine bay, I cleaned it. Not your mamby-pamby little garden hose and Simple Green cleaning either. I hooked up the old siphon feed pressure washer to a gallon of mineral spirits, and started at it. 4 hours, 2 toothbrushes, and 3 gallons of mineral spirits later it was clean.
So anyway, I reassembled it, detailing all of the parts before they got re-installed. Before I topped the motor off with it's valve cover, I gave it a finish of wrinkle red powder coating. I fired it up, set the timing, and commenced the break in period. It made it through break in with no drama, and is currently serving duty as my daily driver.
Click on the thumbnails for a larger view
---
UPDATE - 4/30/03
After serving me well for a few months as the daily driver, I found the GRM Challenge to be quickly approaching. I had stepped up the performance a bit by installing an APEXi VAFC to keep the VTEC engine happy while running off of a non-VTEC ECU. While the car was running fine, it still looked like crap. It was time for a make over. And more power. And handling.
I picked up a parts car to help with the make over and the performance. It was a 91 CRX DX that was equipped with a bunch of performance parts, and a set of GSR rims, that I was able to get for $400. Through the magic of ebay, I was able to get far more than that out of it. I kept the DC Header, the 2.25" Exhaust, the Progress Group Suspension, the GSR Rims, and various interior bits that were better on the parts car than on the primary one.
The parts car. Click on the thumbnail for a larger view.
A couple of my GRM Teammates met me at my shop, and we prepped the car over the course of a weekend. I handled bodywork, while Roby Scheufler did the suspension and Brett Howell polished and installed the exhaust. The rocket surgeon who owned the parts car had painted the Stainless Header blue, so it took several tedious hours to get it looking right. Barry Saney was at the SEDIV that weekend, and was unable to join us.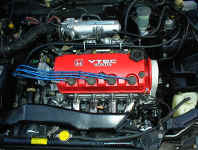 The Y8 Mini-Me engine, with the Stainless DC Header installed. Click on the thumbnail for a larger view.
I've never claimed to be an expert at body work, but this car needed some, and it needed it cheap. My bodywork skills still do not justify much admiration, but I was able to get the car a good bit straighter than it was when I started. Through the miracle of procrastination, the car didn't get to the paint shop until 4 days before the $2003 Challenge. Good planning, eh? Here are some pictures of it getting ready to go to the paint shop.
Getting Ready to go to the Paint Shop. Click on the thumbnail for a larger view.
I chose to have the CRX painted at SprayGlo, a franchise shop that offers a variety of levels of paintjobs. They had their $500 job on sale for $350, so that seemed like the way to go. I was impressed with their facilities and the demeanor of the owner. It seemed like a much better setup than other franchise shops I had seen.
I picked my car up 3 days later, and was thrilled with the results. Black is a hard color to get right. Especially if it's being done for not much money. SprayGlo got it right though. Unfortunately, we were in such a rush to get the car back together, we didn't get any pictures of the reassembly process. It was, after all, about 12 hours before our departure time. Also, we happened to be in the middle of Atlanta's worst pollen week of the year. The Beautiful Black CRX kept turning yellow.
We tried to leave Atlanta by 11:00 on April 3rd, but various things delayed us by about an hour. We missed our caravan meeting, but fortunately we didn't need it.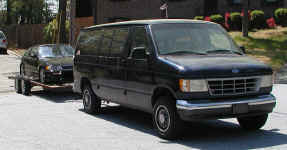 Heading to Gainesville. Click on the thumbnail for a larger view.
We had an uneventful drive down to Gainesville. We pulled into the hotel at around 6:00, and were in instant heaven at viewing the 60 or so $2003 creations that graced the parking lot. We cruised the lot for a while, put some faces to names, and then went to check in. It was my first time meeting the GRM Staff, and they are some of the coolest people ever. They all have a great attitude, and were a blast to be around.
Friday saw us at the drag strip. This was definitely not going to be the cars strong suit. Nevertheless, we weren't the slowest car there. We ended up with a 16.609. Oh well - that's a little better than stock.
At the drags. Stock Steelies on the front with old BFG Drag Radials. Roby being a tool. Barry being Barry.
We were scheduled to be judged in the Concourse on Saturday morning, so after we left the drag strip, we went by the car wash on the way to the hotel. And we washed. And washed. And vacuumed. And polished. And Armor Alled.
Prepping for the Concourse.
Our hard work at the car wash paid off, as we took 13th place in the Concourse. Not too shabby for a $350 paint job laid on top of amateur body work, and a bone stock 120K mile interior.
Concourse Photos. Note the SPEED Channel Camera in the last picture... Yeah Baby!
The last portion of the Competition was held on Saturday Afternoon, and was an Autocross that was laid out on Gainesville Raceway's Test Course. It was a lot of fun! Each of the team members took a lap. Then we let the ringers, Steve Hoelscher and Danny Shields, take it for a spin. Roby got the best time of the team members, at a 57.X, but Danny got the best time in it, at a mid 54. Fun runs saw us approaching Danny's time, but we couldn't get closer than about .5 seconds. FTD was a 48.something. We ended up 20th in the autocross. This was on street tires, with a street alignment, in a car that serves duty as a daily driver. We were quite pleased!
Autocross Photos. Good Times indeed.
The Grassroots Motorsports $2003 Challenge was awesome! We all had a blast. We met some really cool people, and got to drool over some really sweet cars. We ended up 25th place overall, which made us quite happy. In the timeless words of Arnold... We'll be back!