1987 Porsche 944 - 5.0
This is the 1987 Porsche 944 that is being built for the Grassroots Motorsports $2005 Challenge. After a good showing in 2003 with the CRX, we decided to up the ante a bit. The CRX placed in the top third, which we were quite happy with, considering that it was a daily driver on street tires. But to get into the top 10, we decided we needed about twice as many cylinders. As the saying goes, I should have had a V8! Not content to show up with a hopped up pony car, the search began for a car that would handle well, accept a V8 swap, and have a big "Wow" factor. The initial plan was a 2nd Generation RX7 with a 5.0 Mustang engine. In studying the RX7, it became obvious that it had been based to a large extent on the Porsche 944. Hmm, a V8 944 - that could work. The 944 is a great Chassis in need of a better engine. The Ford 5.0 H.O. is a great motor in search of a better chassis. Thus, a plan was born.
The word was put out that we were searching for a cheap 944 - condition of the engine obviously of no concern. While the 944 was Porsche's budget car of the 80's, it's still a Porsche. Finding $2000 - $3000 examples was no problem, but finding one cheap enough that it could be converted to Pony Power and still come in under $2004 was not easy. A local racer and former Grassroots Challenge competitor, Danny Pittman, came through with a potential candidate. It was a fire damaged '87. We went to take a look, and while everything forward of the firewall was in rough shape, the rest of the car was very nice. It had received a recent decent quality repaint. The interior was not perfect, but it wasn't bad for a car that is pushing 20. It also had some very nice 17" rims. The price was $1500. While the car was worth it, it was still too much. We negotiated with the owner that we would give him $750 for the car without rims, and he agreed. The car looked so awesome with the rims though, we later decided to pick them up separately for the car's "post challenge" life :)
So now we had our starting point. A fire damaged 1987 944.

Fire Damaged Porsche Valve Cover.
The work thus far has concentrated on getting the burnt motor out of the way. Fire damage is nasty. All wiring, belts, and hoses melt, leaving pieces of charred rubber and insulation-less wiring harnesses in their wake. This is a huge, dirty mess to clean up. To make it that much harder, Porsche decided to assemble the entire engine with socket head cap screw, so normal socket and combination wrenches can't be used for many things. Those crazy Germans... Anyway, after a few evenings disassembling stuff, the motor is almost ready to come out, and it was time for a web update.
Fire Damaged 944. The engine bay got cooked pretty well. Click on the thumbnails for a larger view.
Good Times, eh? Forgot to take a true before shot, as the Intake Manifold has already been removed.
A bit of progress. The engine is mostly undressed and the wiring has begun to be sorted.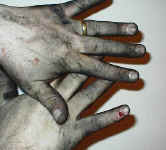 Bloody knuckles - the joys of a project car!
Stay Tuned...